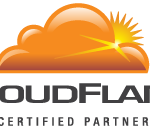 Here at Elcoserv, we are dedicated to providing our customers with the best, most powerful tools available. To that end, we've recently teamed up with CloudFlare to help you enhance your website's speed and security. And the best part – You can enable CloudFlare for FREE with every Elcoserv account!
CloudFlare is an advanced content delivery network (CDN) that provides optimal performance and security to your website. With over 14 data centers around the world, their CDN automatically caches your static website files. While dynamic content remains on your Elcoserv web server, static files are physically closer to visitors. CloudFlare then uses a technology called Anycast to route your visitors to their nearest data center, helping your website load faster for visitors, regardless of where they're located. On average, websites using CloudFlare have 65% fewer requests and use 60% less bandwidth.
Using their intelligent global network, CloudFlare also blocks threats and limits abusive bots and crawlers from wasting bandwidth and sever sources.
We integrated CloudFlare into our Elcoserv systems so make it easier for you to install and start using it in minutes. Simply log into your Elcoserv control panel (cPanel) and click on the "Software/Services" tab. From there, you can decide which CloudFlare plan is best for your site and then click "Install" to get started.
CloudFlare comes in two plans: Basic and Pro. The basic CloudFlare plan is absolutely FREE and includes faster site performance, broad security protection, and basic reporting.
If you're looking for maximum optimization, CloudFlare also offers a pro plan which includes real time statistic reporting, mobile optimization, advanced site security, advanced reporting, and even greater site performance improvements.
We're excited to be working with CloudFlare to make your website, even better! If you have any questions regarding CloudFlare or how to get started, leave a comment below or open a support ticket.
How CloudFlare increases speed and security of your site
CloudFlare makes it easy for any site to be as fast and secure as the Internet giants.
CloudFlare, a web performance and security company, is excited to announce our partnership with Elcoserv.com! If you haven't heard about CloudFlare before, our value proposition is simple: we'll make any website twice as fast and protect it from a broad range of web threats.
Today, hundreds of thousands of websites—ranging from individual blogs to e-commerce sites to the websites of Fortune 500 companies to national governments—use CloudFlare to make their sites faster and more secure. We power more than 65 billion monthly page views—more than Amazon, Wikipedia, Twitter, Zynga, AOL, Apple, Bing, eBay, PayPal and Instagram combined—and over 25% of the Internet's population regularly passes through our network.
Faster web performance
CloudFlare is designed to take a great hosting platform like Elcoserv.com and make it even better.
We run 23 data centers strategically located around the world. When you sign up for CloudFlare, we begin routing your traffic to the nearest data center.

As your traffic passes through the data centers, we intelligently determine what parts of your website are static versus dynamic. The static portions are cached on our servers for a short period of time, typically less than 2 hours before we check to see if they've been updated. By automatically moving the static parts of your site closer to your visitors, the overall performance of your site improves significantly.
CloudFlare's intelligent caching system also means you save bandwidth, which means saving money, and decreases the load on your servers, which means your web application will run faster and more efficiently than ever. On average, CloudFlare customers see a 60% decrease in bandwidth usage, and a 65% in total requests to their servers. The overall effect is that CloudFlare will typically cut the load time for pages on your site by 50% which means higher engagement and happier visitors.

Signing up
Any website can deploy CloudFlare, regardless of your underlying platform. By integrating closely with Elcoserv, we make the process of setting up CloudFlare "1 click easy" through your existing Elcoserv cPanel dashboard. Just look for the CloudFlare icon, choose the domain you want to enable, and click the orange cloud. That's it!