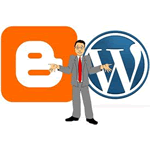 Support for WordPress, b2evolution, LifeType and More!
There are tons of blog types out there, and Elcoserv is guaranteed to support them all. We handle regular blog hosting, micro blog hosting, photo blog hosting and even a few podcasts too. With our 99.9% uptime you can rest easy knowing your blog is not going down. Support at Elcoserv is guaranteed too, so you will always have a friendly and helpful staff willing to help you out.
Starting at €1 per month, you can get professional hosting for your blog. You can quickly get WordPress, b2evolution and many other scripts quickly setup by our script installer so you can get to publishing your own thoughts and views quickly and easily.
Our hosting plans come ready for any blogging script you wish to install. With support for PHP 5.2 (w/Zend Optimizer), Python 2.6.6, Perl 5.8.8 and MySQL 5, you can rest assure your script will work. From within our cPanel control panel, you can also manage your domains, FTP accounts, website statistics and much more.
If you need a new home for your entire network of blogs, our VPS hosting plans are a perfect solution. They are scalable to meet your needs, fully managed by our staff, support RAID 10 storage and give you 100% dedicated resources. It is much easier to manage multiple blogs from one location than it is jumping from hosting account to hosting account, or web host to web host.
Try us free for 30 days! Just use the coupon "FREETRIAL" during signup.